Heuchera
April 15, 2016 - Hot Flower Favorites
Native Americans once used Heuchera (common name Coral Bells) medicinally and in past years gardeners traditionally planted them for their ornamental value and toughness as a border plant. Now hybridizers are introducing a whole new generation of Heuchera bred for their brilliant foliage and stunning flower forms – ruffled leaves, standard and dwarf cultivars ideal not only in planting beds, but also in containers and in rock gardens. Many are also selected for their heat or cold tolerance. Come take a look at the following and enter the bold new world of Heucheras!
Reds and Pinks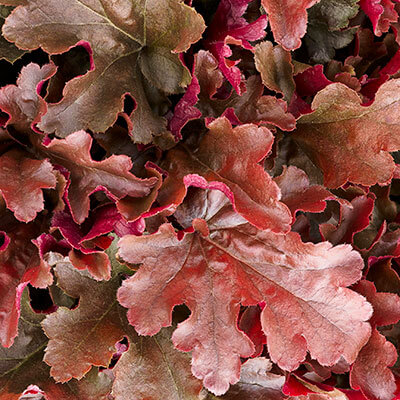 Dolce® Cinnamon Curls heuchera is a unique blend of coppery orange, red and purple tones on the top and brilliant magenta red on the undertones of the leaves.
---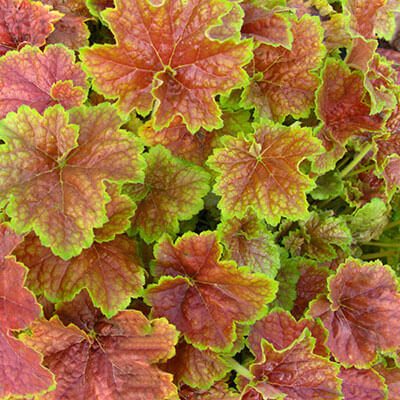 Miracle is a brilliant brick red with a vivid chartreuse margin.
---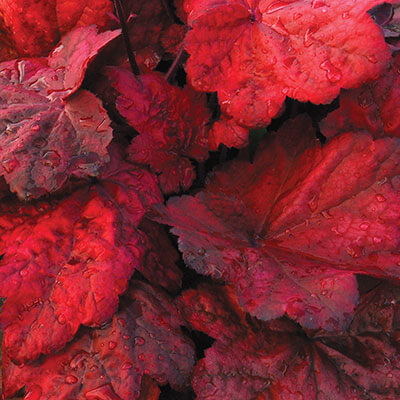 Autumn Leaves is truly a four-season plant with leaves of red in the spring, taupe in the summer, and ruby red in the fall.
---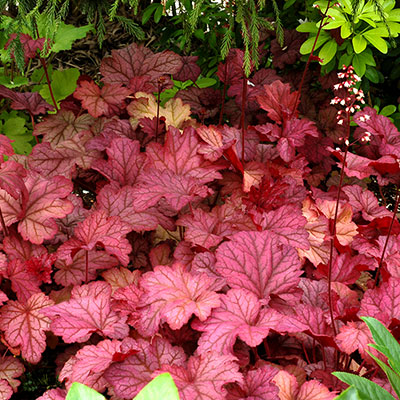 Berry Smoothie is a metallic rose pink.
---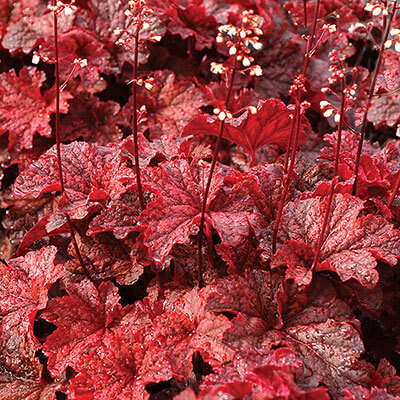 Cajun Fire is red in spring, black in summer and maroon in fall.
---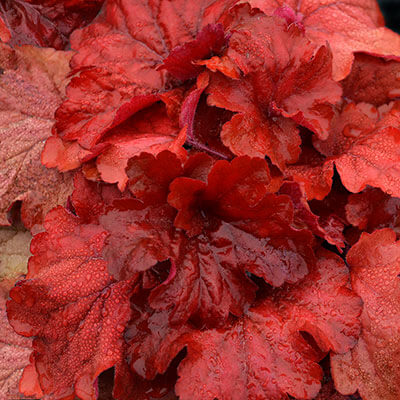 Fire Alarm is a bright red in spring and fall and darkens to a brown-red during the summer.
---
Yellows, Orange, Peaches and more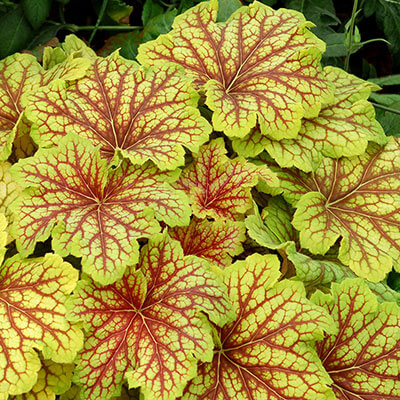 Red Lightning has electrifying dark red veins that spark over huge gold leaves.
---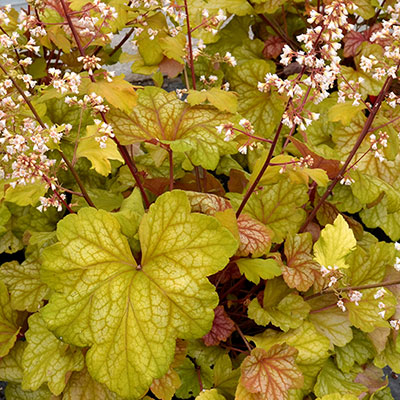 Champagne is stunning with leaves changing from peach to gold to champagne-gold with a strong white veil overall.
---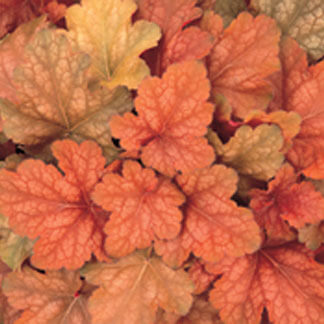 Dolce® Peach Melba has peachy orange and deep pink reveres with textured leaves.
---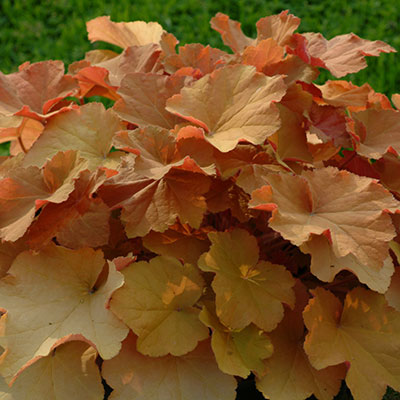 Caramel is bright apricot in color in spring, fades to soft amber by summer and in fall turns to a brilliant burnt copper.
---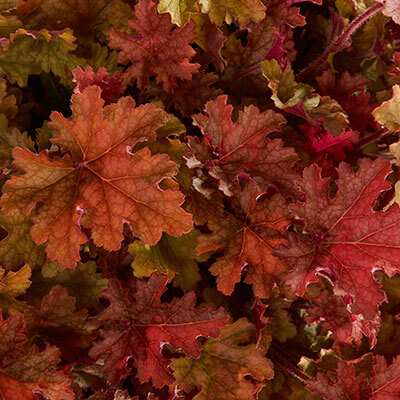 Ginger Peach is a large and bold with ruffled, ginger foliage that develops rosy peach hues and a silvery veil.
---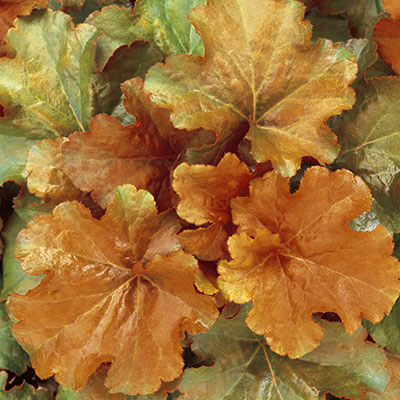 Dolce® Crème brûlée leaves range in color from pale caramel to brown sugar in spring and ruddy red in autumn.
---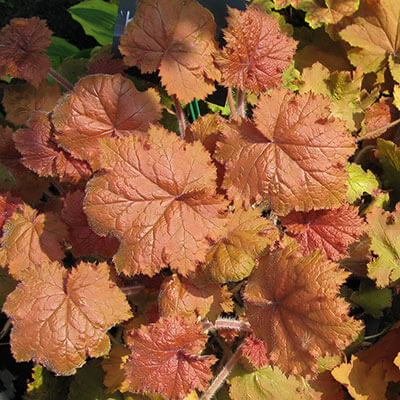 Kassandra with the onset of spring, reddish-orange leaves appear and gradually develop into a spectrum of colors from amber to orange, with hues of brown and green.
---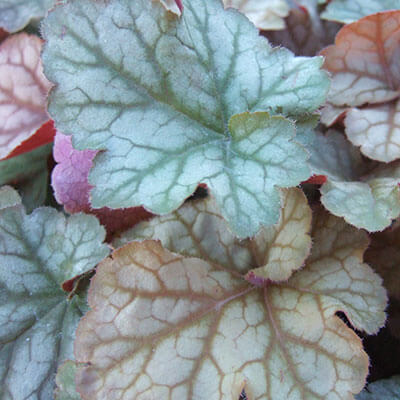 Pinot Gris emerge a ginger color with a light silver overlay in early spring. In the summer months, the leaves turn smoky rose with a heavier silver overlay and deep purple undersides.
---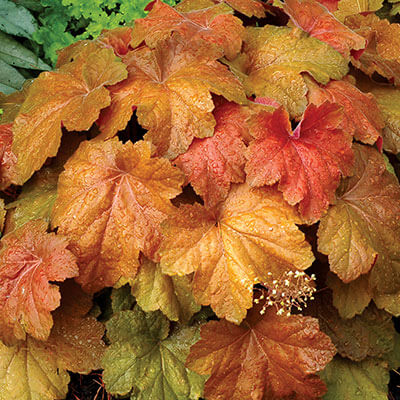 Southern Comfort has huge cinnamon-peach leaves, changing to burnished copper to amber. Creamy white flowers erupt in late summer.
---
Greens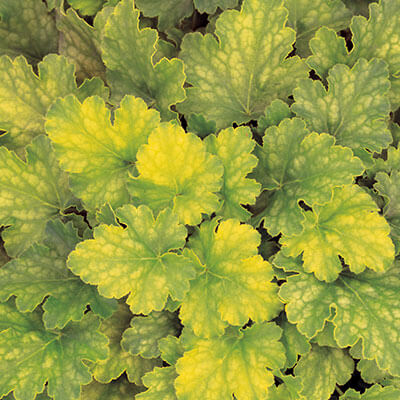 Dolce® Key Lime Pie serves up and extra large portion of cool colors of lively green foliage that intensifies in the fall.
---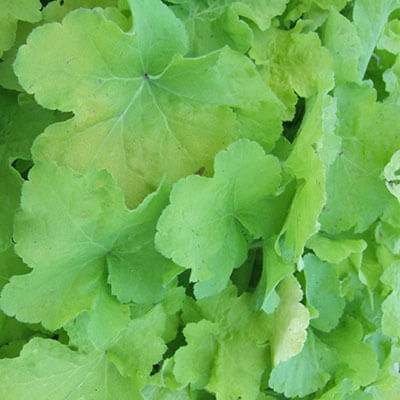 Citronelle is an exceedingly unique color with vibrant lemon-lime leaves and silver undersides.
---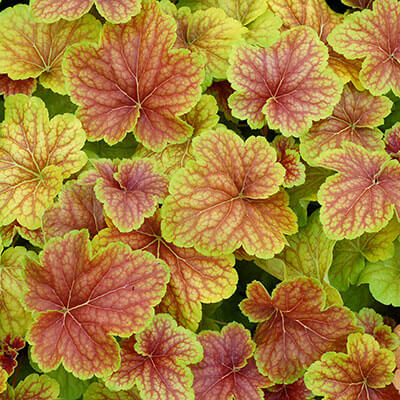 Delta Dawn have gorgeous gold to lime leaves with red centers in the spring and fall and red veins in the summer.
---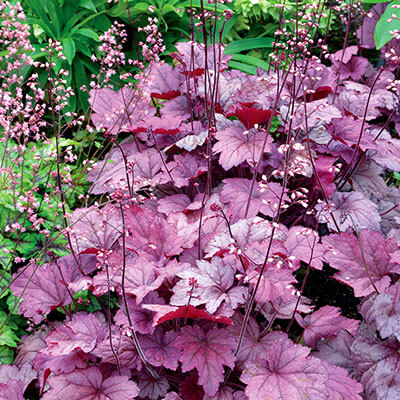 Georgia Peach has large peach colored leaves with a showy silver overlay in spring. In fall and winter the color intensifies to rose purple with a decorative frosted veil.
---
Purples and Blacks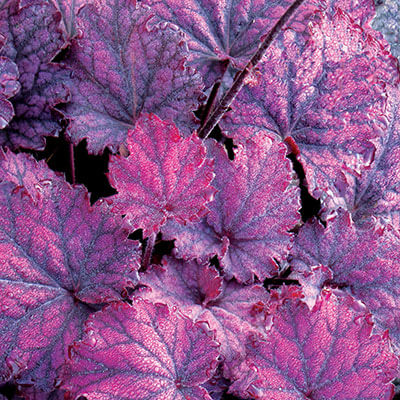 Midnight Bayou have large maple-like leaves of purple with black veins and light pink flowers.
---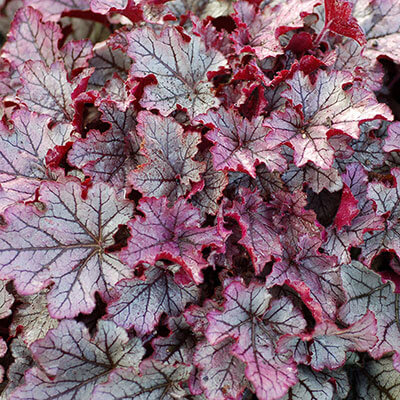 Spellbound has marvelous ruffled foliage of dazzling silvers with tints of rose purple that will leave you spellbound.
---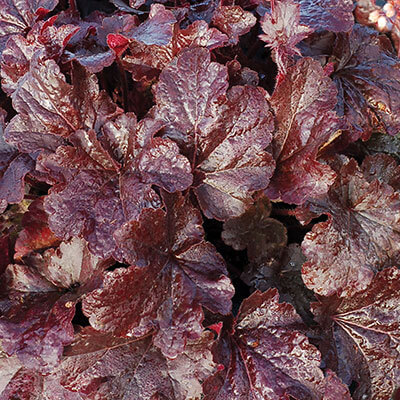 Creole Nights with glossy almost black leaves.
---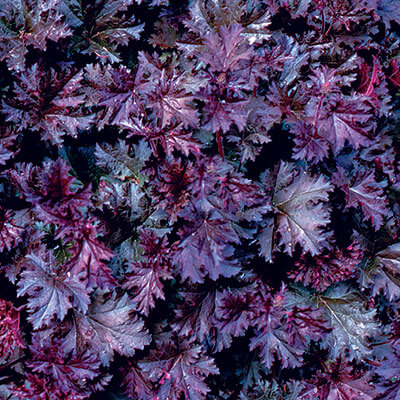 Amethyst Myst with deep purple, nearly black foliage is highlighted with an enchanting silver overlay.
---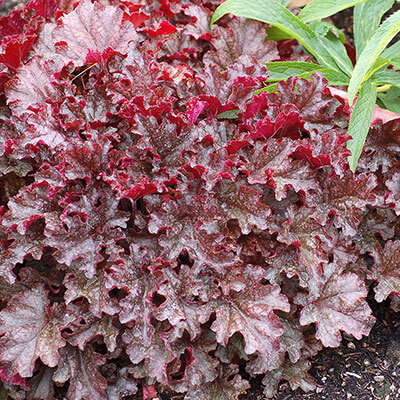 Berry Marmalade is large and bold with ruffled, deep purple-black leaves and a silvery veil.
---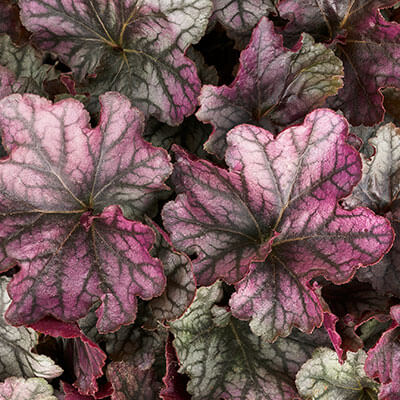 Dolce® Blackberry Ice have a remarkable iridescent purple with black veining and have amethyst purple undersides.
---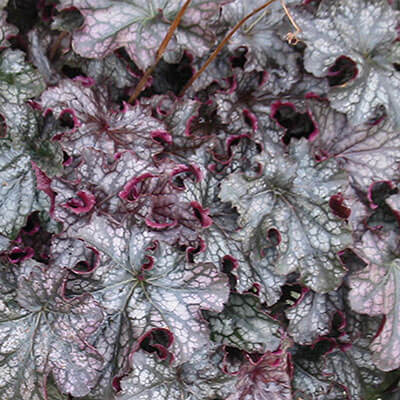 Dolce® Blackcurrant is a dramatic two-toned leaf heuchera of bold purple with sterling silver accents.
---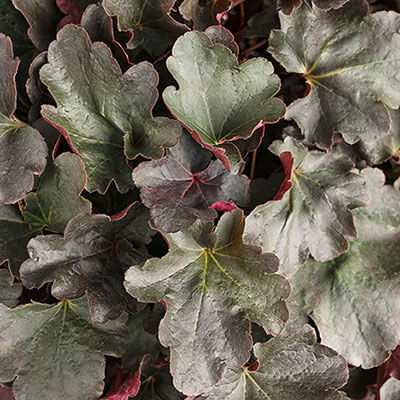 Dolce® Brazen Raisin has a deep purple-black foliage with burgundy-white undersides.
---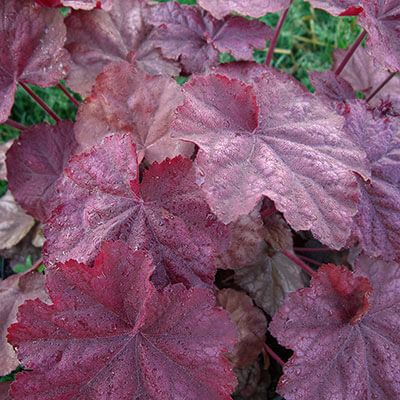 Beaujolais has massive, burgundy leaves featuring a touch of silver and even deeper purple veins.
---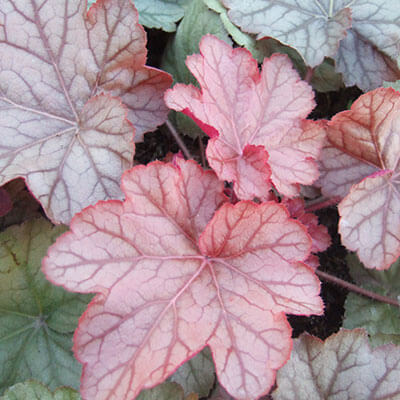 Encore with deep rose-purple leaves underscored by a light silver sheen, dark veins and vibrant burgundy undersides in spring. In summer through fall, they mature to a light, dusky rose with heavy silver overlay and smokey purple veins.
---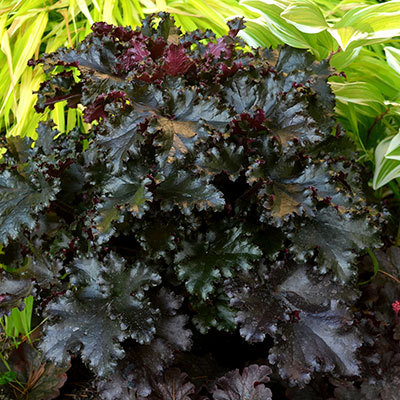 Black Taffeta is a silky black.
---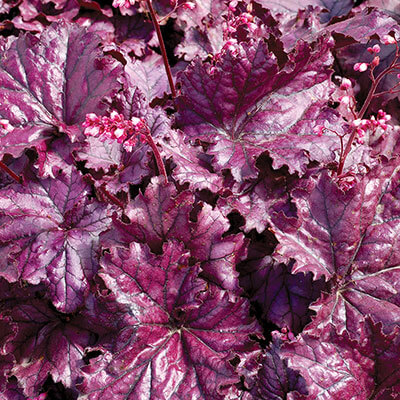 Forever Purple is a knockout with ultra-purple glossy leaves with fluted edges.
---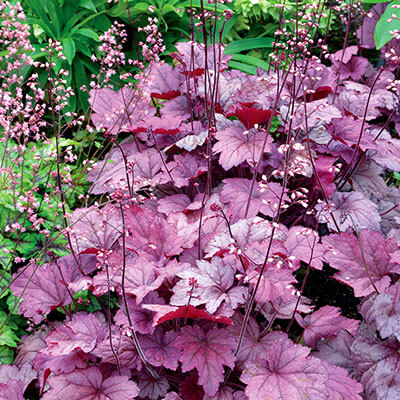 Georgia Plum has amazing year round rose purple leaves and a pink to silver overlay.
YOU MIGHT ALSO LIKE THESE