Red, White and Blue Inspiration
July 1, 2016 - Hot Flower Favorites
We want YOU to be inspired – Red, White and Blue varieties are a fun and festive way to show some American spirit!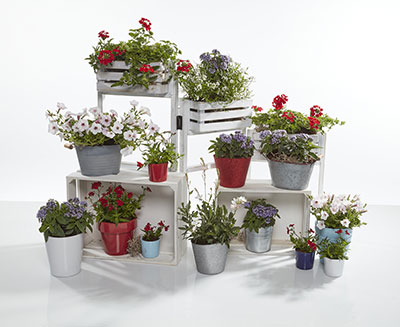 Create your own masterpiece with some great red, white and blue varieties or be inspired by one of our suggested patriotic combinations:
---
Star Spangled Sparkler features Proven Winners® varieties combining Snow Princess®, Supertunia® Royal Velvet and Tukana® Scarlet. With extreme vigor and an incredibly long bloom time, Snow Princess® is perfect as a filler in combinations. Supertunia® varieties create extraordinary hanging baskets and containers because their compact habit means they fill in quickly and don't get leggy. Their low-maintenance, sturdy habit and tough nature make them a reliable consistent performer. Tukana® is an early-blooming series with vivid colors and a dense, mounded form that adds to it's appeal.
---
Miss. Patriotic showcases Proven Winners® Superbena® Royal Red, Snowstorm® Blue Bubbles and Snowstorm® Snow Globe. A wide-range of vibrant colors and large blooms, the best disease resistance and a vigorous growth habit is what makes Superbena® a great choice for gardens and containers. Snowstorm® has glimmering, star-shaped flowers that add beauty and texture to your combination while its delicate looks are backed by durability and vigor.
---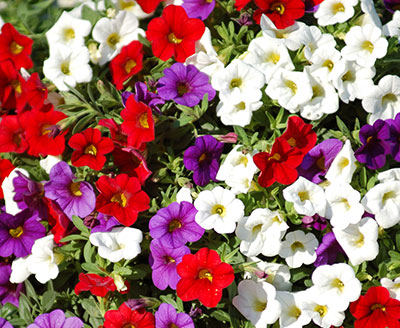 The Memorial Day Mix recipe by Suntory® combines Million Bells® in Trailing Blue,Trailing Red and Trailing White, making a stunning warm season container display all the way from the 4th of July through fall! Million Bells® are heat tolerant, cool hardy and amazingly prolific. They produce an abundance of blooms and continue well into the autumn months.
YOU MIGHT ALSO LIKE THESE